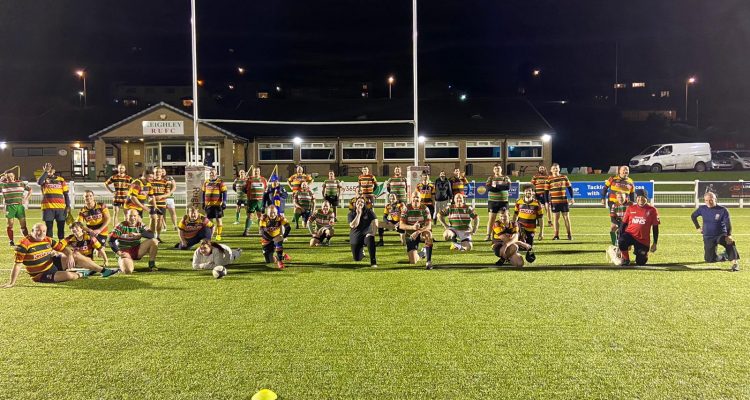 Keighley v Bumble Bees RUFC: A Titanic Encounter
Eagerly Anticipated
Not since the owners of the White Star Line sent an ocean going luxury liner on a blind date with an iceberg has a fixture been so eagerly anticipated.
A return to full contact rugby after months of lockdown would be reason enough to cheer but Covid-19 and lockdown has had a disproportionate impact on many Mixed Ability rugby participants. Many of the Bumbles players have had to plot a course between greater risk of ill health if they catch Covid and the significant harms of isolation including: loss of social capital, loss of physical fitness and reduced mental wellbeing. The fact that they navigated these treacherous seas successfully is a great credit to the players and their support networks.
Would Missing Players Sink Bumbles' Ambitions?
With Bumbles missing many of their star players including Paul "The Maul" Whyatt, Ryan Kirby (shielding) and Tom Beattie (unable to travel from lower tier to tier 3) the only question was whose hopes would be sunk when the epic played out.
Curtain Raiser
As a curtain raiser to the main event there was a game of touch rugby in the "return to play" format. The Bumbles team in this match was skippered by Katrina Dobson on debut with her sister Bronte Windle. Keen to establish a Women's Mixed Ability rugby team, both sisters showcased skills that they have developed over the summer with some wonderful running lines.  Debutants  "Mighty" Gideon Simpson and Haley Rhodes were also prominent for the visitors.
Wicked High Ball
Hosts Keighley had the best of early play and worked deep into Bumbles territory. Spotting space and a mismatch out wide, Hamish Pratt launched a wicked crossfield kick skywards. Isolated and outnumbered by onrushing Keighley players twice his size Michael "Giddy" Whittaker out jumped the attacking wave to secure the ball. From their own try line Bumbles worked the ball the entire length of the pitch using their forwards in twin pods. The play included trademark penetrating runs from Bumbles founder player Anthony Brooke and wrecking ball Cam Smith. Having sucked in defenders, Bumbles now released their speedsters with Sufyaan Hussain rounding the last defender to dot down in the corner. The touchline conversion by Dan "You're in the Army Now" Fletcher was good. (0-7)
Riposte
The riposte from the home side was immediate. Quick hands and elusive running saw Keighley in under the posts. The easy conversion somehow drifted wide. (5-7)
Blinded by the light
Bumbles again pressed. This time it was the high ball that did the damage. Jake "Dazzled" Ruff collected and was through, only to inexplicably drop the ball as he crossed the try line. To guffaws from his father David Ruff, Ruff junior was to explain that the floodlights had disorientated him. Fortunately for the visitors the error was not costly with Keighley giving up possession in their own 22. Sufyaan Hussain again worked the edges to score. Kev Pringle's conversion attempt kept low and didn't get above the Plimsoll line. (5-12)
Dancing Feet
After a break to sanitise hands, two Bumbles player coaches showed their skills. Leon "The Pocket Rocket" Taylor used his dancing feet to draw defenders before feeding Ahsan Sakandar who ran a beautiful supporting line cutting through the drift defence. The move was finished off by Darren Heigold who still had work to do to beat his winger. Such was Darren's elation at crossing the try line, he almost forgot to ground the ball before running out of the in goal area. (5-17)
Rhino Charge
Stephen "Rhino" Rhodes penetrated with a typical charge, scattering Keighley defenders. Michael Kernan took the ball on with mazy running. Michael "Giddy" Whittaker was on hand to take the scoring pass. Rhino Rhodes added the extras with the conversion. (5-24)
Turnover ball saw Will "Chinny" Tomlinson running hard like he was scrambling for the last place in a lifeboat. This set up Michael "Giddy" Whittaker to double his tally with a second try. This time it was Big Lee Hainsworth who converted. (5-31)
Big Lee Hainsworth was soon in the action again as he and Michael Kernan moved the ball deep into Keighley territory.
Mark "thinks he's a Kamikaze twin but in reality he's more like one of the Proclaimers" Goodwin zigged and zagged before putting Michael "Giddy" Whittaker in for his hat trick. (5-36)
Another Keighley spill gave the visitors quick turnover ball and Stephen "Rhino" Rhodes took advantage, crossing to extend the lead as the final period approached. (5-43)
And the Band Played On
In the fourth quarter the home side, determined to go down fighting, were boosted by the addition of several Bumbles players who gave Keighley added sting.
As Bumbles found themselves increasingly on the wrong end of the referee's whistle, Keighley were able to close the gap with a well worked try. (10-43)
With the clock ticking Kev Pringle, now in Keighley hoops, scored. Converted Ahsan Sakander.
(17-43)
Last Word
With Keighley clinging on like Leonardo DiCaprio to a waterlogged door, it was Bumbles who had the final hurrah. Sam Evans who had only just started training with Bumbles during a recent placement with International Mixed Ability Sports as part of his Bradford University Physiotherapy degree showed his fine footballing skills to hack through a loose ball. The bounce was kind: Sam collected on the final whistle to score his first try on his Bumbles debut and in his first ever rugby match. Smiles all round. Leon Taylor added the conversion. (17-50 Full Time)
Rugby is the Winner
Unlike the encounter between liner and iceberg there were no losers in this epic collision. Keighley were brilliant hosts and the superb RFU artificial grass pitch under floodlights enabled both sides to play First Class rugby. Whilst Keighley might regret some more "steerage class" errors: missed tackles and poor ball retention, Hamish Pratt was keen to emphasise that it had been a useful run out that had given the home side lots to reflect and work on. In the end, of course, as it is every weekend up and down the country, rugby was and is the winner.
Thanks to players, coaches, match officials for putting smiles on so many faces.
Written by: Mark Purvis
Photography: Mick Massey