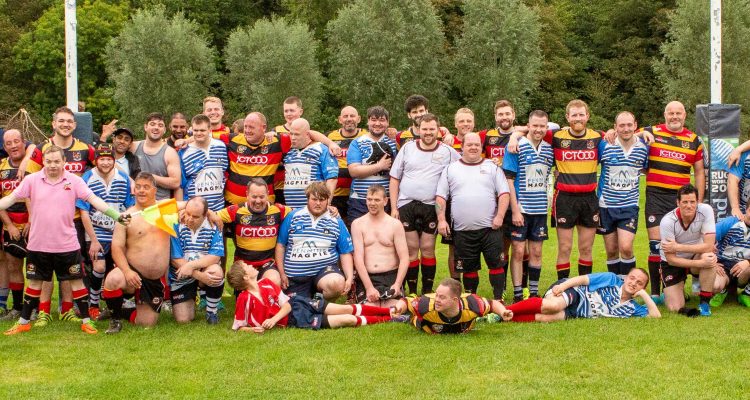 Bumble Bees RUFC v Halifax Magpies – 15/9/19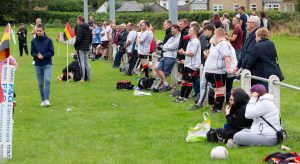 Our friends from Halifax RUFC, The Magpies travelled a short distance across to Bradford & Bingley for our first fixture of 2019/20.
Both teams had large squads with an amazing 28 players for Bumbles Bees, especially considering the number of player unavailabilities. A huge thanks to new players Andy Fradgley (RFU RDO), Callum Harris, Paul MacNamara and Jolly Dobbs (West Yorkshire Society Referee) – we hope you enjoyed the experience and will be back for more.
The first half started at an impressive pace with both teams attacking between the 22s. After 15 minutes Stephen (Rhino) Rhodes made the breakthrough with an impressive break and long run to touch down (5-0).
After the first score Darren made yards down the wing, with the forwards making strides up the middle including the mighty BIG Lee but handling errors handed the ball back to the opposition, who came back with intent. Another attack from deep inside Bumble's half led to another Rhino try finishing at pace, from distance (10-0).
Halifax came back into the match with two short range tries and a conversion to take a lead (10-12) into half time.
At the break, Bumble Bees made multiple changes to ensure everybody had half a game. Although many changes were made it didn't seem to affect the home team's attacking prowess, with great hands and support play leading to multiple opportunities. Unfortunately, BIG Lee missed a try scoring opportunity when running the ball dead and several other attacks were contained by impressive defence by the Magpies. Another attack from broken play led to another long range score for the in-form Rhino, who converted his own try to enable the Bumble's to take the lead into the last quarter (17-12).
The Magpie showed great fitness, teamwork and commitment to enable them to score 3 great tries to take the lead coming into the last 5 minutes (17-27).
The Bumble's weren't going to allow Magpie's to win by a 10 point margin, and a perfect scrum attack led to Jack Thornber scoring a spectacular try in the corner with 1 minute remaining – even more impressive was his 'Ronaldo' celebration and dance (22-27).
With the restart being the last play, Bumble's tried to get a winning try but just couldn't break through a solid and committed Magpie's defence.
The Magpie's celebrated the win in a very close match and all players look forward to the next encounter.
Final Score:
Bumble Bees (22) – Halifax Magpies (27)
Tries: Rhino (3); Jack (1)
Conversion: Rhino (1)
Finally, a hugs thanks to all the supporters and to Tom Massey for refereeing – he did a great job to keep the match flowing and everyone smiling.
Note: Photos from Mick Massey to follow.