3 Peaks Walk – Saturday 12 September 2020
12th September 2020 @ 6:30 am

-

4:30 pm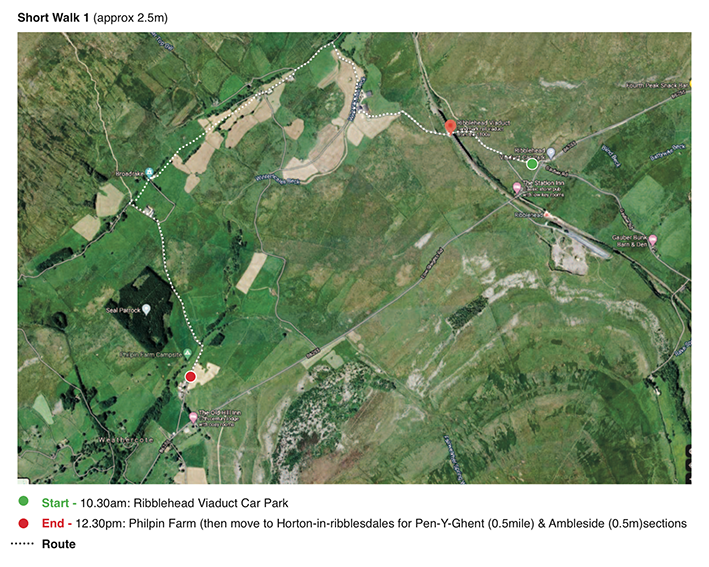 Raising funds for IMART 2021
3 Peaks Walk – Saturday 12 September
Main Walk
Meet Time/Location
6.30am – Horton-in-Ribblesdale
Distance: 24.5 miles
4.30pm – Finish
Contact Dave Duxbury for more information:

dave.duxbury@whiteroserugby.com

or call 07811

33

1427
We are raising monies for the charity to help towards costs for IMART 2021.
For donations or to help fundraising see:
https://www.justgiving.com/team/Bumbles
Players 'Short' Walk
Meet Times/Locations
9.00am Bradford & Bingley RUFC
10.30am Ribblehead Viaduct
12.30pm – Lunch
4.30pm – Finish walking
6.00pm (Approximately) – Return to Bradford & Bingley RUFC
Total walking distance:  Approximately 4 Miles
Requirements:
Walking shoes/boots or good quality trainers
Clothing for all weather conditions (waterproof coat/jacket)
Packed Lunch
Water Bottle/Drinks
Rucksack (with spare shoes, packed lunch & drink)
Money (to buy snacks/ice cream at Philpin Ln / Horton-in-Ribblesdale and drinks during the day (if we visit a café/pub))
Contact: Phil Wilson phil.wilson@whiteroserugby.com or call 07850 602096
We are raising monies for the charity to help towards costs for IMART 2021.
For donations or to help fundraising see:
https://www.justgiving.com/team/Bumbles
________________________________________
The Details
Meet: 10.30am
Location: Ribblehead Viaduct
Walk 1:
Whernside
Start time: 10.45am
Distance: 2.5 miles
Route: Walk from Ribblehead viaduct to Philpin Farm
End Time: 12.30 (ish)
Suitability: Flat path suitable for all.
Notes: Suitable walking shoes required. Meet walkers coming off Pen-y-Gent at Ribblehead Viaduct and then at Philpin Farm/Lane as they come down off Whernside.
Cars will pick up walkers from here to go Horton-in-Ribblesdale.
Lunch: 12.30pm – 1.30pm
Travel to Horton-in-Ribblesdale
Walk 2:
Pen-y-ghent
Start time: 1.30pm
Distance: 1/2 mile (approximately)
Route: Set off from Horton-in Ribblesdale for a short walk to the bottom of Pen-Y-Ghent for photo at sign post.
Suitability: All
Notes: Suitable walking shoes required
Walk 3:
Ingleborough
Start Time: 3.00pm
Distance: 1 mile (maximum)
Route: Walk on path up from Horton-in-Ribblesdale
End Time: When we meet up with the team coming down from the top of Ingleborough
Other information:
Travel: Cars will be needed to transport players from Bradford to the Dales, from Ribblehead to Horton-in-Ribblesdale and return.
Clothing/Equipment: All walkers will require suitable walking boots/shoes and have clothing for all weathers.
Food/Drink: All walkers should have a rucksack with drinks/snacks for throughout the day and a packed lunch or money to buy lunch in Philpin Ln / Horton-in-Ribblesdale
Contact Phil Wilson for more information: Email: phil.wilson@whiteroserugby.com | Call: 07850 602096 
Risk Assessment – 3 peaks long walk
Risk Assessment – 3 peaks short walk
We are raising monies for the charity to help towards costs for IMART 2021.
For donations or to help fundraising see:
https://www.justgiving.com/team/Bumbles